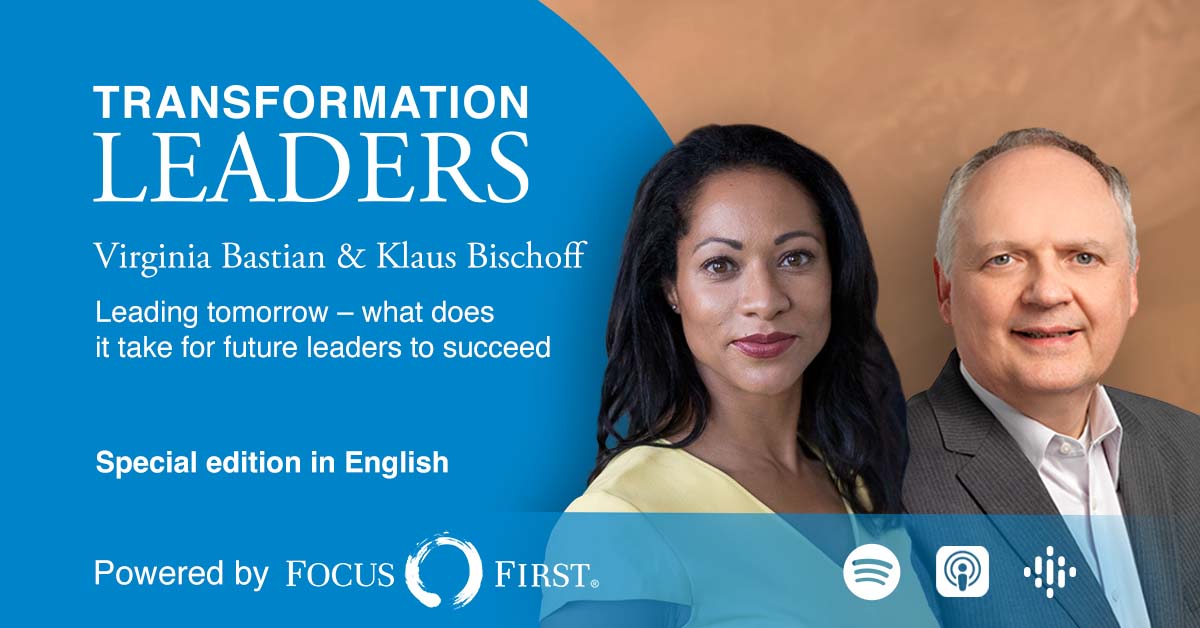 Leading tomorrow – what does it take for future leaders to succeed? Dr. Virginia Bastian (Global Head of Talent & Development, Suitability at Deutsche Bank) and Klaus Bischoff (former EVP at DAX40, Merck KGaA, Darmstadt, Germany) talk about it in a new special edition of Transformation Leaders, the podcast of René Esteban (Founder, CEO of FocusFirst).
About Dr. Virginia Bastian (LinkedIn): Virginia has worked across different industries as a consultant, held various managerial roles at Nestlé, and was responsible for big transformational projects, people and organisational development, and strategic HR work. In 2021 she joined Deutsche Bank as Global Head of Talent & Development and Suitability. She is passionate about driving change and positively impacting people and organisations and gets her energy from working with diverse people to shape the future.
About Klaus R. Bischoff (LinkedIn): Klaus Bischoff has over 30 years of true global experience in the Life Science & Specialty Chemical Industries, recognised for his strong execution skills. Throughout his time, he has worked with large-scale businesses, led sales growth from single to double-digit performance, and executed major transformation processes, including M&A and post-merger integrations, digital transformations, and growth acceleration of the leading eCommerce platform in the life science industry. Having ended his corporate career, Klaus is now working with organisations and people as an advisor & coach, targeting lasting improvement of performance and results.
About René Esteban (LinkedIn): René Esteban is Founder and CEO of FocusFirst. As a former senior leader in a Fortune 500, he found that too many transformation projects take too long, waste money, and annoy key stakeholders – and that there must be a way to accelerate business transformations sustainably. Today, this belief unites an international FocusFirst team consisting of former top executives and subject matter experts. He is an international keynote speaker, author and senior advisor for top executives to achieve challenging goals and accelerate complex transformations.
About FocusFirst (LinkedIn): FocusFirst is a boutique consulting firm for transformation & strategic change projects. We are the specialised firm in the industry that combines former top executives and an award-winning method to accelerate transformations. This unique "double helix" of capabilities equips us to help our customers deliver results faster against demanding business goals. Executives work with FocusFirst to develop organisations, structure & accelerate transformations. FocusFirst works with leading Fortune 500 companies such as Merck, Novartis, E.ON, BASF, as well as established mid-sized companies.
Special edition in English.