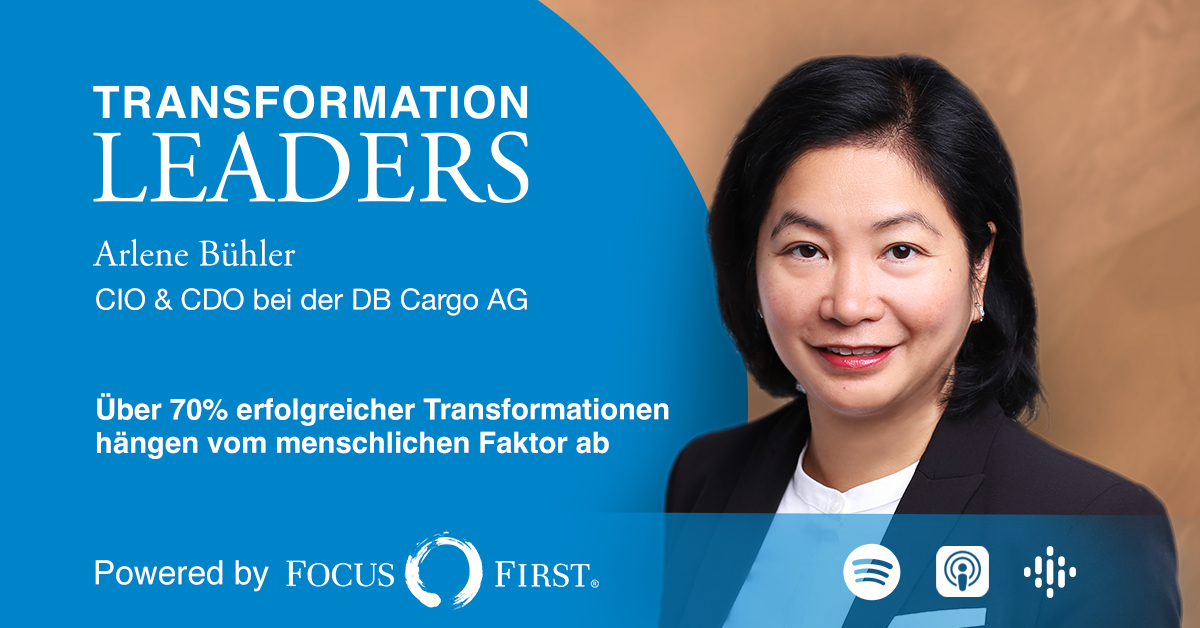 Digital transformation in the transport and logistics industry: insights from Arlene Bühler, CIO & CDO at DB Cargo AG, moderated by René Esteban (CEO, Founder of the Change-Consultancy FocusFirst)
Many believe that digital transformation is all about technology. In reality, however, it is about changing mindsets and empowering people to embrace change.
In fact, the success of digital transformation depends largely on engaging employees, inspiring them, fostering a culture of innovation and connecting technology to the purpose of the business.
As we move into the digital age, it is important to recognise that technology alone is not enough. We can drive sustainable change by focusing on people, encouraging continuous learning and enabling collaboration.
About Arlene Buehler (LinkedIn): Arlene Buehler has a key role at Deutsche Bahn AG. As CIO/CDO, she works at the freight subsidiary DB Cargo AG and is in charge of IT and digitalisation. DB Cargo AG is on a remarkable journey to become Europe's leading rail logistics company. This ambitious task is supported by automation and digitalisation projects that Arlene is driving forward together with her team. Arlene's dedication and expertise were recognised in 2022 when she was awarded "CIO of the Year".
About René Esteban (LinkedIn): René Esteban is Founder and CEO of FocusFirst. As a former senior leader in a Fortune 500, he found that too many transformation projects take too long, waste money, and annoy key stakeholders – and that there must be a way to accelerate business transformations sustainably. Today, this belief unites an international FocusFirst team consisting of former top executives and subject matter experts. He is an international keynote speaker, author and senior advisor for top executives to achieve challenging goals and accelerate complex transformations.
About FocusFirst (LinkedIn): FocusFirst is a boutique consulting firm for transformation & strategic change projects. We are the specialised firm in the industry that combines former top executives and an award-winning method to accelerate transformations. This unique "double helix" of capabilities equips us to help our customers deliver results faster against demanding business goals. Executives work with FocusFirst to develop organisations, structure & accelerate transformations. FocusFirst works with leading Fortune 500 companies such as Merck, Novartis, E.ON, BASF, as well as established mid-sized companies.
Only available in German for now.