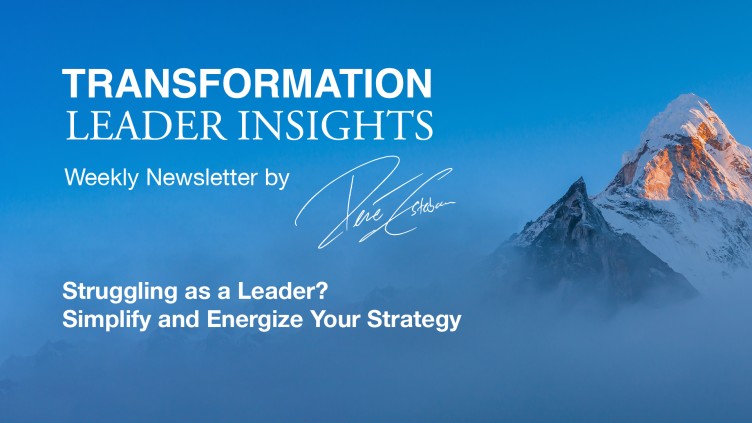 If you're a leader, you might find these challenges familiar:
Are you facing opposition or dissatisfaction with your strategy from stakeholders and your own team?
Do your teams lack focus, with too many tasks juggling around that don't align with your strategy?
Are delays and missed goals causing stress and dropping quality levels?
You're not alone. Every company's vitality is tied to its employees' dedication and creativity. However, leaders often struggle with aligning everyone to the company's strategy. More often than not, stakeholders and employees either misunderstand the strategy or aren't contributing enough to the company's growth.
The Magic of Internal Communication
Here's a simple truth: The way you talk about your goals matters. A lot of companies excel at talking to the world but stumble when it comes to talking to their own people. This miscommunication makes employees feel left out, impacting their motivation and productivity.
The answer? A strategy that pulls everyone together in a creative and developmental journey. I call it "The OneGoal" and the "IKEA Effect".
What are the OneGoal and IKEA Effect? 
The OneGoal isn't a grand vision or purpose. It's a concrete, single goal you aim to achieve within 18-24 months. Often, leaders spread their energy thin trying to reach multiple goals, resulting in less than satisfactory outcomes. Imagine if we poured all our energy into just one major goal?
The OneGoal is your one epic ambition, something inspiring that sticks in people's minds. It's not a vision or a role description; it's a concrete objective like launching a revolutionary product, breaking into a strategic market, or climbing a real or figurative mountain.
However, crafting your OneGoal isn't a solitary exercise. It should link with your team's objectives and should be easily identifiable, making a lasting impact on all. Sound tough? It is, but trust me. It's worth every ounce of effort.
Crafting the Perfect OneGoal
Of course, one might wonder, "How can I have a single goal for a company as complex as mine?" Finding the OneGoal can indeed be challenging but rewarding. We have guided many customers through this process, typically a six-week journey. One customer even took a year and a half to discover their OneGoal. But once they found it, it skyrocketed their organization, career, and success.
Now, remember, you don't craft the OneGoal alone. You need the IKEA effect.
The IKEA Effect in Action
The IKEA effect, a psychological term, is when people value things they've made or assembled more than the same thing bought ready-made. The name comes from IKEA, famous for its self-assembled furniture. People feel a stronger emotional connection to something they've invested their time and effort in, whether it's a bookshelf or a strategic goal.
Applying the IKEA effect to leadership means involving your staff and stakeholders in the creation of the OneGoal. This inclusion significantly increases the chance of success. Furthermore, it makes the journey less political and more focused, as people are less likely to criticise something they've helped build. But remember, the orchestration of this involvement process is a thoroughly thought-through process.
So, it's time to refocus, re-energize, and leverage the power of The OneGoal and the IKEA Effect. Start your journey towards a more cohesive and productive strategy today.
How other leaders used the OneGoal and the IKEA Effect
Here are some quick examples from real leadership situations:
1.   The accelerated transformation of an energy company
2.   Realignment of an international DAX40 Brand & Marketing Team
3.   New website and way of working for a DAX company
Ready to refocus and re-energize your organization?
If you're encountering these leadership challenges, you don't have to face them alone. I'm René Esteban, founder and CEO of FocusFirst. We specialise in business transformation, organisational development, and strategic change projects.
We've helped leaders like you at Merck, BASF, E.ON, etc., redefine their goals, engage their teams, and supercharge their organisations using strategies like the OneGoal and the IKEA Effect. Are you ready to focus your energy, clarify your strategy, and inspire your team to achieve more than ever before?
Don't wait for change; take control and create it.
Reach out to me directly, and let's identify together if we are the right partner for your current challenge.
Your René Esteban
Founder, CEO of FocusFirst